the world famous / glenn miller orchestra / sobota - 8.1.2011 od 20:00
Czech version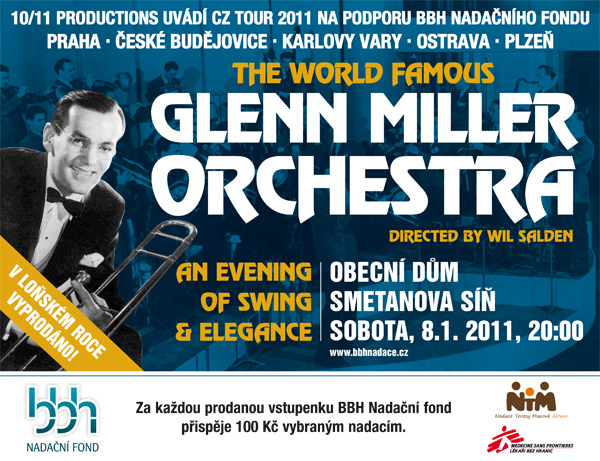 As another year draws to an end, the BBH Nadační fond (Endowment Fund) once again supports excellent non-governmental charitable organizations with this exciting concert/benefit event:
The World Famous Glenn Miller Orchestra, An Evening of Swing and Elegance
This event combines the great timeless live music and performance of the Glenn Miller Orchestra, the elegance of these classic venues and makes a wonderful Christmas present for family, friends and the good people helped by the BBH Nadační fond.
This year, BBH Nadační fond has chosen to support:
Nadace Terezy Maxové dětem – The Tereza Maxová Foundation for Children emboldens Children's Charities throughout the Czech Republic by implementing the latest innovative techniques, minimizing institutionalization, generating resources and providing invaluable support and doing it all with care. Please visit www.terezamaxovadetem.cz
Medecins Sans Frontieres - Doctors Without Borders is a global association of medical and other professions that provides assistance to populations in distress, victims of natural or man-made disasters and armed conflict, they are neutral and impartial and work irrespective of race, religion, creed or political conviction. Please visit www.msf.org
Handicapped Athletes - BBH Nadační fond independently raises money and donates equipment, training and other resources to physically challenged persons wishing to engage in athletic endeavors.
We would like to encourage you to participate in this wonderful event by:
1/. Make a charitable year-end holiday time tax-deductible donation for which you will receive recognition at the event and in the press releases following the show.
2/. Purchasing tickets and/or encouraging your employees and clients to buy tickets to this wonderful show, or both. We can provide you with an electronic flyer that can be distributed to your company employees and contacts indicating your support and would be most appreciative if you would do so. In order to make this a success, for each ticket sold for the Prague shows, BBH Nadační fond will donate 100Kč to these select NGO/charitable organizations.
For every 15,000Kc donated, we would like to thank you with a free ticket to the concert of your choice and your company logo displayed at the event!!
To order tickets, Please go to Ticketstream www.ts1.cz
To inquire about donations to the fond or for more information, please contact:
In English Brian Reagan, breagan@bbh.cz Tel: +420 603 512 51
In CZ Klára Voráčková, kvorackova@bbh.cz Tel: +420 234 091 355
All logos above are live links, just click on them for more information!